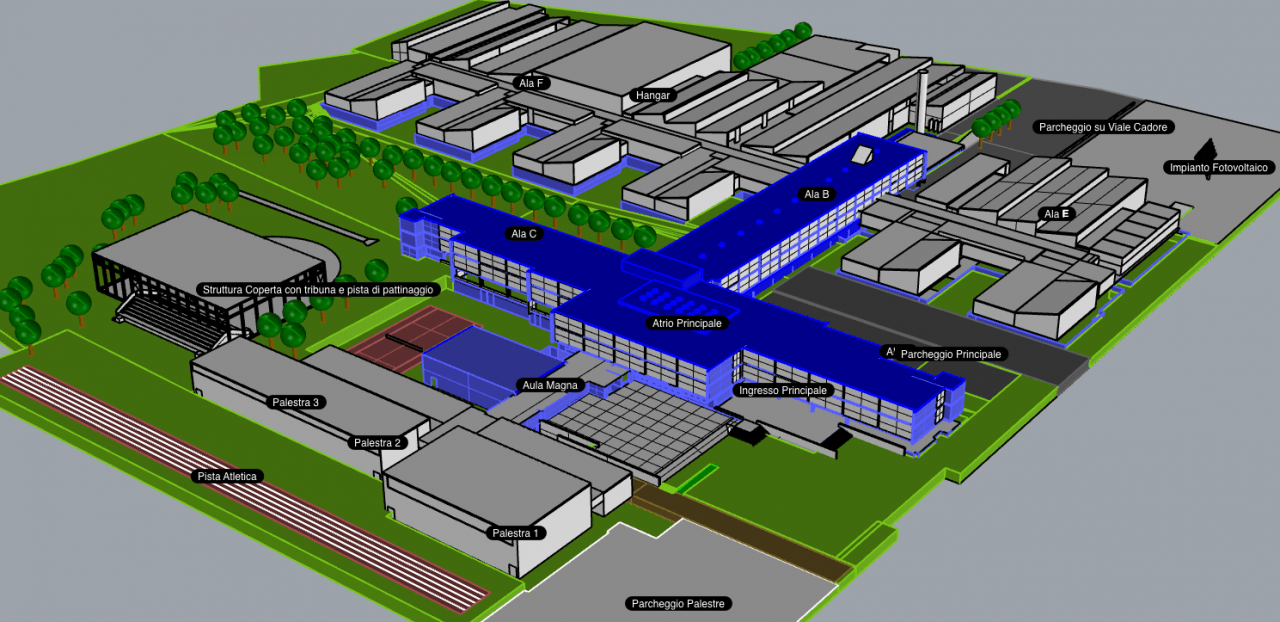 12 Oct

I.S.I.S. Arturo Malignani (Technical High School)

Posted at 12:00h

in

AC/DC Power

,

Accessories

,

Analyzers

,

Company

,

Educational

,

EMC

,

Multimeters

,

Oscilloscopes

,

Products

,

Promotions

,

Solutions

,

WF Generators

Malignani has continuously opened itself to changes, experimentation, and improvements in educational offerings. In the changing school, the institute has always had within itself the energy and enthusiasm necessary to accept the challenge of the future and face new things without fear.

The Malignani headquartered at Via Leonardo da Vinci in Udine: total area 35.000 m2 of which 20.000 are covered, classrooms for 15.000 m2, 46 among laboratories and workshops for 9.000 m2 (where the students can experiment the theory) with even 1 hangar containing several aircrafts. A total volume of 120.000 m3. The educational program includes 8 courses of study for over 3.000 students divided in over 115 classes along the five-year journey.

A unicum in Friuli Venezia Giulia, taking into account that next to the teaching facilities is the Materials Testing Laboratory, which provides certified testing services to companies and also offers students professionalizing experience in the field of construction and building sites.
In addition to these facilities are those of leading companies in various product sectors and the University, with which I.S.I.S. Arturo Malignani has long signed agreements with innovative approach and content.

Through small but meaningful experiences, the institute has long been developing a sense of belonging among faculty, students and community.
In this context, the ideas of museums were also born. The path thus undertaken, also shared and supported by the new manager Prof. Andrea Carletti, led to the foundation of the museums:

MUSEUM of ELECTRONICS and COMPUTERS
Thanks to the coordination of Prof. Massimo Lillia and with the contribution of collector Claudio Di Fonzo and the HCKLUG group, has been possible to bring to life this important educational/historical reality on the evolution of computational tools.
MUSEUM of ELECTROTECHNICS and ELECTRICITY
The inspiration to create a history trail was born a few years ago thanks to the interest and passion of Prof. Roberto Biondi. The initial realization was later enriched and expanded thanks to Prof. Stefano Comuzzi and the contribution of many supporters (many alumni), who donated some really interesting material.
AMX "Ghibli"
The institute also received as a donation (enriching its hangar) an extraordinary example of an Air Force fighter-bomber aircraft, the Ghibli AMX, which can now be used as a teaching aid by future Aviation Experts.
ALL DATA EE d.o.o. as always pays great attention to the world of education and is committed to provide that students of all technical disciplines have the best and most efficient technological equipment at their disposal, so that they can learn and improve with modern teaching aids and develop their talents.
For this reason, ALL DATA EE is proud to have been able to actively participate to the project and enable I.S.I.S. Arturo Malignani to renew the equipment of three of their laboratories with:
The ALLdata Group would like to thank Professors Chiaruttini, Lillia and Piussi and the entire technical department of the institute along with our gold-partners RIGOL and GW-Instek.
A special thanks goes to Greg Nicoloso, CEO of ASEM S.r.l., a Rockwell Automation Company operating in the Industrial Automation and Test & Measurement markets with a full range of industrial PCs, industrial monitors, HMI systems, controllers (PAC, PLC), remote assistance and gateways for Industrial IoT.
ASEM has been one of the pioneers in the technological and digital integration between the worlds of Information & Communication Technologies (I.C.T.) and Industrial Automation, a forerunner in the application of digital technologies and the guidelines at the basis of the fourth industrial revolution called "Industry 4.0", and is today one of the emerging companies in the European Industrial Automation market.
The company is characterized by its own hardware, firmware, software, mechanical and systems design capabilities, and the ability to manage all stages of the production process on its own, including the assembly and soldering of the electronic boards by employing human resources, from production to management cadre, who mostly have graduated at I.S.I.S. Arturo Malignani in Udine. Today ASEM employs over 270 people, 30% of whom are dedicated to R&D activities.
Special thanks goes also to the Piaggio Foundation, a non-profit organization established with the aim of enhancing in its activities a virtuous combination of business and culture, developing important synergies with the territory and its excellence in the fields of culture, art, science, technology, manufacturing and tourism.
Without ASEM and the Piaggio Foundation, which donated a significant portion of the equipment to the school, this would not have been possible.