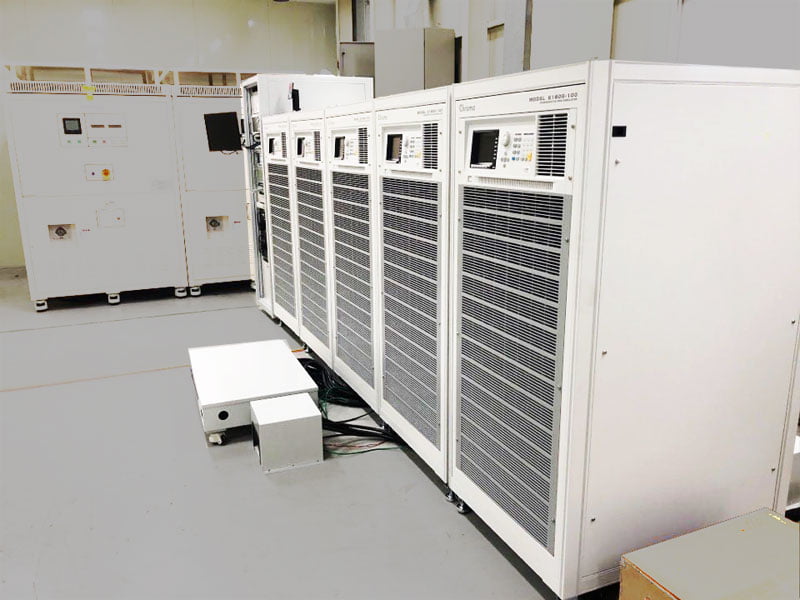 12 Nov

Adaptable 525kVA AC Simulator for Bidirectional EV Charging System Test Solution

The development of electric vehicles (EVs) drives the growing demand for charging stations (EVSE). As different EVs require the use of different charging methods, EVSE products need to support not only AC and DC charging modes, but also safe, reliable, and fast charging, as well as accurate measurement and precise control of the charging capacity. Chroma has been deeply involved in the field of EV testing for many years, providing a variety of complete EVSE test solutions. Now, Chroma proudly presents the all-new 61800-100 Regenerative Grid Simulator, a 105kVA high-power AC power supply solution.

Chroma 61800-100 has a maximum output voltage range of 500VLN and low voltage distortion in compliance with the relevant regulations for EVSE (such as IEC 61851, SAE J1772, and CHAdeMO) as well as for electrical energy testing of AC power supplies (such as IEC 62052 and 62053). The energy recovery function is fully applicable to EVSE test applications, including V2G (Vehicle to Grid) and V2L (Vehicle to Load) functionality. An energy-saving choice, Chroma 61800-100 can directly convert the energy generated by the EVSE under test back to the grid, without transforming that energy into heat.

The AC Source mode meets EVSE's V2G functional test requirements, whereas the AC Load mode offers rectified CC, rectified CP, phase lead, phase lag, and CR functions to fulfill EVSE's V2L functional test requirements. In addition, the standards regarding the immunity of the EVSE AC input terminal (IEC 61000-4-11 regulations on voltage dips, short interruptions, and voltage variations) can also be satisfied by using the 61800-100's advanced voltage waveform editing function. The grid simulator provides customers with a variety of test applications and ensures that product verification meets the relevant regulatory standards.

Many manufacturers and certification bodies have already started using Chroma 61800-100 for EVSE related testing and certification. Most recently, an oversea certification laboratory adopted five 61800-100 units in parallel to achieve a maximum output power of 525kVA, so meeting the requirements for AC and DC EVSE testing on a variety of power levels.

Chroma ATE is a world-leading supplier of precision test and measurement instrumentation, automated test systems, intelligent manufacturing systems, and test & automation turnkey solutions. With over 35 years of experience in test and measurement equipment, we continuously propose test solutions in new energy industries, including EV, solar energy, and microgrid energy storage applications.
Key Features
Output power:

61830: 30kVA
61845: 45kVA
61860: 60kVA
61800-100: 105kVA
61800-100 (800VLN): 105kVA

Output voltage:

0~300V
0~400V (option*1)
0~500V (option*2)
0~800V*3

Output frequency: DC, 30Hz-100Hz
User selectable single phase or three phase output
Accept reverse rated apparent power with regenerative conversion to grid
Specifically designed for PV inverter, Smart Grid and EV related test applications
800VLN output voltage for high voltage high power grid tied PV inverter, PCS test application (61800-100 800VLN)
Programmable slew rate settings for voltage and frequency
Programmable voltage and current limits
Turn on, turn off phase angle control
LIST, PULSE, STEP mode functions for testing Power Line Disturbance (PLD) simulation
Voltage dips, short interruption and voltage variation simulation
Harmonics, inter-harmonics waveform synthesizer
Comprehensive measurement capability,including current harmonics
Analog programmable interfaces
Remote interface: GPIB, RS-232, USB and Ethernet
Parallel output function supports three phase mode only (not single phase mode)
Regenerative AC load function (option)
XHV function (option)
*1: 61830/61845/61860 option
*2: 61800-100 option
*3: 61800-100 (800VLN)
To learn more about this series, please go to the Chroma website through the following link:
Regenerative Grid Simulator Model 61830/61845/61860/61800-100/61800-100(800VLN)