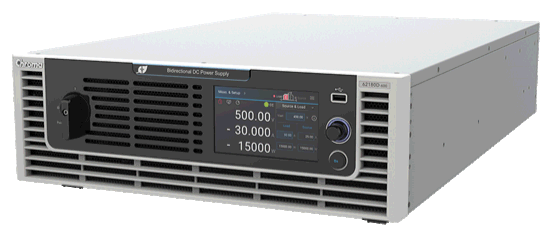 18 May

NEW 2-in-1 Bidirectional DC Power Supply + Regenerative Load

Renewable energy sources such as PV, EV, fuel cell, and battery are the market trend as the replacement of traditional energy sources. With the increasing adoption of electric vehicles worldwide and the growing demand of energy storage batteries for grid connection, the distributed energy storage in microgrids is being commercialized faster than ever. The bidirectional design of power conversion devices requires battery applications to achieve high efficiency, high voltage conversion, and high power density direction, which prompts the need for battery simulation (bidirectional power supply) testing designs.
▲Power Conversion Test Application for EV and Energy Storage in Microgrids
Chroma 62000D Series Bidirectional Power Supply
The 62000D Series bidirectional power supplies with power rated 0-600V / 0-120A / 18kW newly launched by Chroma are packaged in a 3U (13.3 cm) high power density design. This series offers two-quadrant operation, enabling both DC power supply output and regenerative DC load. The absorbed energy feeds back to the grid with a conversion efficiency up to 93% and can operate in constant voltage, constant current, and constant power modes. Compared to traditional power supply and load, the 62000D bidirectional DC power supply saves space, reduces energy loss and heat dissipation, and is easier to wire and configure.
Chroma 62000D also works as a battery simulator. Using our softpanels, the 62000D can simulate state of charge (SOC) conditions or load specific battery characteristic V-I curves to conduct charge and discharge evaluation and testing of the onboard charger, storage device and motor driver. Its front panel intuitive touch screen and intelligent operating interface greatly shorten the test time and simplifies complex test processes.
▲Battery Simulation Software
Application
Charge/discharge testing and life cycle testing, including BOBC, DC-DC conversion, and PCS
Motor driver testing for DC-AC power supply and energy feedback
Compliant with LV123 and LV148 standards on electrical car components testing
I-V power source simulation of energy storage, battery, and fuel cell in microgrid labs
Battery power simulation for testing powertrain and auxiliary systems such as electric vehicles and e-scooters, stacker trucks, and ships
▲Intuitive Touch Panel
Key Features
Voltage rating: 0~100V/600V/1200V/1800V
Current rating: 0~540A
Power rating: 6kW/12kW/18kW
Two-quadrant operation: source and load functions
High power density: 18kW in 3U
Easy master/slave parallel & series operation*1 up to 540kW
Wide range of voltage & current combinations in constant power
Auto sequencing programming
Voltage & current slew rate control
High speed transient response <1.5ms
Low output noise and ripple
Intuitive and user-friendly touch control screen
Standard USB/LAN/APG interfaces, optional CAN/GPIB interfaces
3-phase 4-wire universal AC power: 200~480 Vac
Solar array simulation function (optional)
*1: 100V/600V models support series operation.
1200V/1800V models support parallel operation up to 540kW.
To learn more please go to the Chroma website through the following link:
Bidirectional DC Power Supply Model 62000D Series