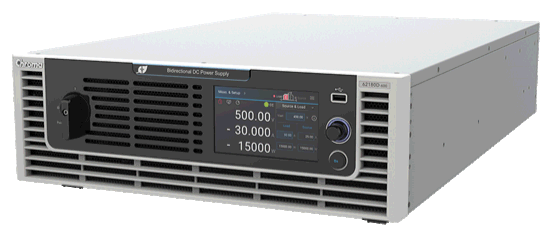 17 Dec

Chroma New Energy Test Solutions Lead Net-zero Transition

Chroma finishes the year strong by presenting a variety of new energy test solutions at TAITRONICS 2021. We cordially invite you to visit our booth and experience how Chroma can help the industry shift from low carbon to zero-carbon and move towards a net-zero transition.

The rise of renewable energy PV/EV/battery vehicles greatly stimulates the need for battery systems connecting to the grid. This, in turn, prompted the swift commercialization of household, commercial, and decentralized energy storage microgrids. As power conversion devices are following the rapid developments in battery applications and moving towards bidirectional designs with high efficiency, high voltage conversion, and high power density, Chroma launches a new 4-in-2 solution. It only takes two devices (62000D Series and 61800 Series) to provide the functions of four test instruments (bidirectional DC power supply, regenerative grid simulation, regenerative DC and AC load) for testing power conversion devices such as bidirectional OBC, PV inverters, and DC chargers. The test solution helps you to reduce energy and carbon emissions while ensuring seamless transient response tests.

Countries around the world are investing in battery energy storage systems as part of their strategy to counter global warming and other environmental challenges. However, the recent ignitions in power stations underline the necessity to improve their quality, especially of the battery thermal runaway. Chroma's regenerative charging and discharging equipment serves to detect any quality defects in battery cabinets or poor battery cell welding, in accordance with the IEC 62620 & IEC 62619 standards. The test equipment effectively reduces overcharging in the battery cell and decreases the risk of thermal runaway.

Chroma's AC/DC EV Charging Test System integrates both grid and battery simulation and supports major industry standards (CCS/CHAdeMO/GBT) for EVSE simulators, making it perfect for use throughout product development, verification, and the production line. The test system provides electrical parameter test items and application cases based on international test standards (incl. ISO15118, DIN70121, and SAE-J1772). The open software and hardware platform enables quick and easy customization to your specific testing needs.