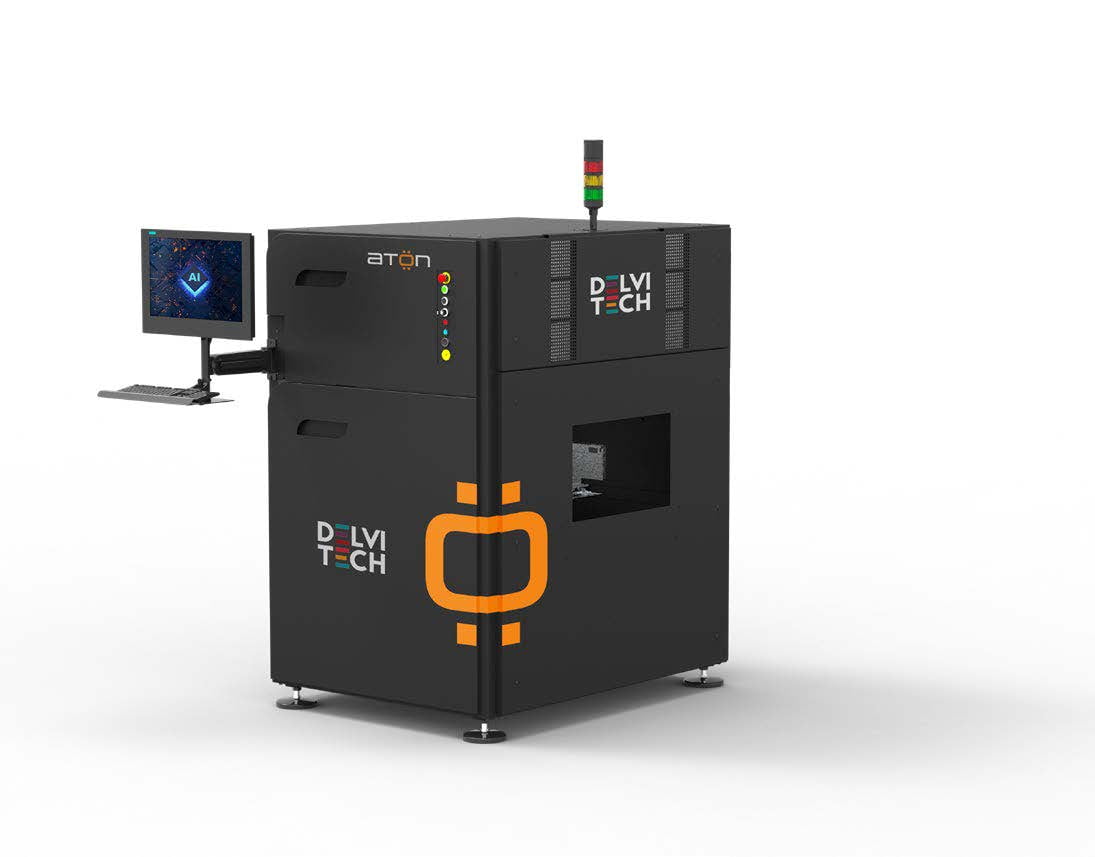 31 Mar

Delvitech's new 3D AOI Aton

Aton is a highly innovative optical inspection machine that, together with the 3iS ecosystem, revolutionizes the concept and standards of Automatic Optical Inspection.

The device has unique features, such as the optical head positioned at 14 cm from the board, which allows to analyze boards with up to 12 centimeters tall components.

Aton can be used for all inspection phases, from post wave to post reflow, enabling you to take advantage of great flexibility in the inspection and remodeling phases of the production lines.
THE ONLY NEEDED SOLUTION FOR SMT AND THT
Aton is an innovative 3D AOI Solution. Part of the 3IS ecosystem, revolutionizes the concept and standards of Automatic Optical Inspection systems.
Aton covers all inspection phases, ranging from SMT to THT, having the following features:
Full 3D Inspection Solution
Patented Delvitech Optical Technology
AI-based Inspection Solutions
These features make Aton a perfect fit for many industries dealing with different sized boards such as 5G.
OUTSTANDING HARDWARE WITH MULTIPLE BENEFITS
REAL 3D ACQUISITION EXAMPLES
NEITH SOFTWARE
WEB-BASED AND MULTIPLE OS COMPATIBLE
The new software, created especially for the 4.0 Industry, facilitates extensive data management by using AI, obtains a higher production output, prevents defects and increases the first pass yield.
MODERN SOFTWARE BASED ON MODULARITY
AI IN DELVITECH's SOLUTION
Traditional parameter and threshold – based AOIs face difficulties in adapting effectively to all probable variations during the production process. With Delvitech's AI technology, complex variables can be computed with the help of sophisticated machine learning models.
AOI Programmers will only be required to use smart inspectors from the delivered library that reaches unparalleled defect detection with incredible accuracy and an extremely low false alarm rate. On demand, the user can take full control and even train new Artificial Intelligence data.
AI APPLIED TO DELVITECH's INSPECTION
OPTICAL HEAD
Camera
1 x 12MP Delvitech High Speed Top Camera w FPGA
1 x 12MP Delvitech Polarized Camera
4 x 12MP Delvitech Side Cameras
Projectors
4 x Delvitech RGB Projectors for 3D measurements
Field of View Dimensions
Object FOV x-axis: 37mm
Lighting Types
Structured lights + LEDs
PCB HANDLING
Conveyor Z movement
60 mm
Minimum PCB dimensions (L x W)
50 x 50 mm
Maximum PCB dimensions (L x W)
550 x 500 mm
Minimum edge clearance
3 mm
Width adjustment
Automatic
Board warp compensation
± 5 mm
Flow direction
Standard: L > R ; L > L Customized: R > L ; R > R
OPERATING FACILITIES
Power requirements
3.6 kW
Operation temperature
10˚C - 35˚C
Relative humidity
20-75% (Non-condensing)
Voltage
230 V, 120 V, 100 V (AC Single Phase)
Dimensions (L x W x H)
1450 x 1140 x 1795 mm
Owerall dimensions (L x W x H)
2280 x 1140 x 2125 mm