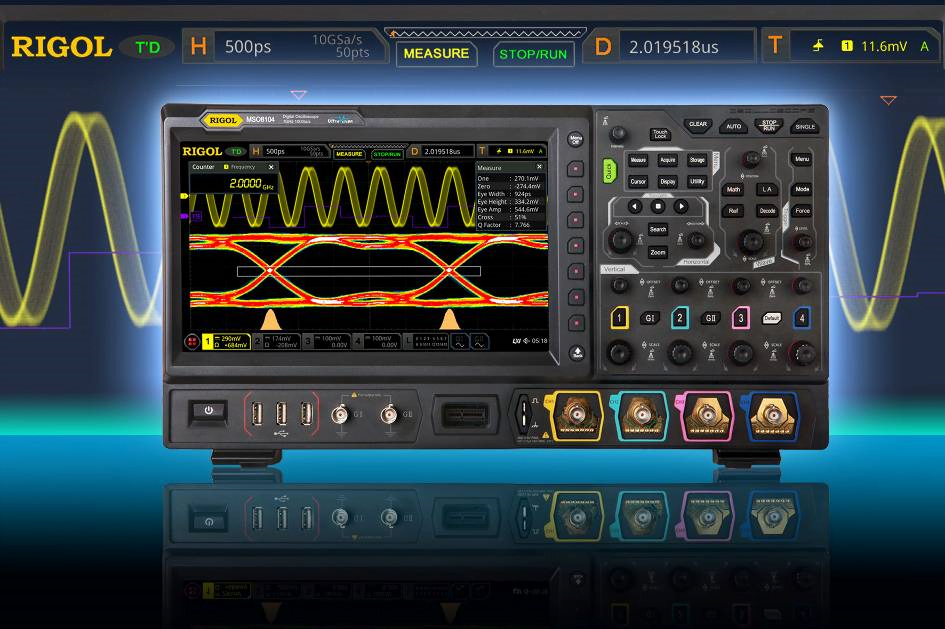 08 Aug

RIGOL Announces New 2 GHz MSO8000 Series Digital Oscilloscope
Rigol MSO8000: Multifunctionality Meets High Quality
MSO capable, up to 2 GHz bandwidth and real-time eye diagram
RIGOL Technologies announces a significant expansion to its UltraVision II oscilloscope portfolio with the introduction of the New MSO8000 Series Digital Oscilloscope. Delivering Bandwidth up to 2 GHz Bandwidth and a new Jitter and Real-Time Eye Analysis package the MSO8000 Series extends RIGOL's unmatched value proposition into serial data analysis and signal integrity applications.
Providing standard bandwidths of 600 MHz, 1 GHz and 2 GHz (for 2 channels) and a maximum sampling rate of 10 GS/s, the MSO8000 series is ideal for fast signal acquisition and analysis. Typical applications include automated testing in factories, protocol analysis for serial buses in vehicle electronics, measurement of electronic circuits, switching performance measurements and analysis in the power domain, and much more.
A wide variety of trigger, math and display options (mask test and power analysis) as well as an integrated signal search function are available like all the usual serial bus protocol analysis and trigger functions. An integrated voltmeter, frequency counter and an optional 2-channel arbitrary function generator complete the range of measurements of this X-in-1 device. Various interfaces such as USB host, USB device, HDMI, LAN, USB GPIB (adapter) and AUX OUT are also available.
As always, Rigol has not promised too much here and offers these fully equipped oscilloscopes at the best price/performance ratio.
Read more on the Rigol website …