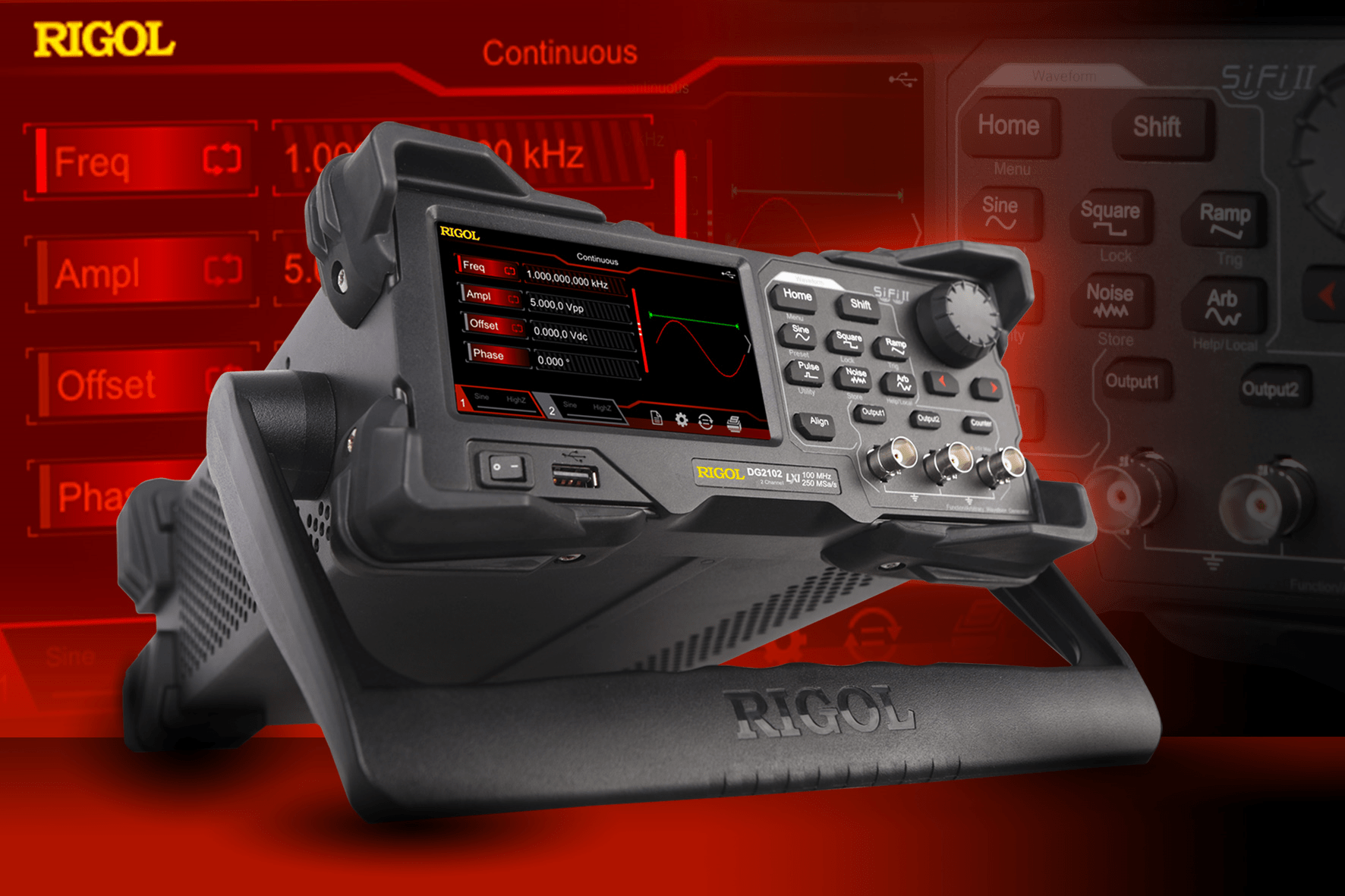 25 Feb

New RIGOL Arbitrary Waveform Generator
Redefines Performance for Entry Level In
RIGOL Technologies EU GmbH announces an expansion of their Waveform Generator portfolio. The new DG2000 Series gives budget constrained customers an uncompromised value with advanced features typically reserved for much higher price points. Now makers, educators, and IoT designers working with both electrical and RF applications can build long complex arbitrary waves, generate 8th order harmonics, create advanced modulations and inject random noise. Both with a 4.3 inch TFT Color Touch screen.
With 50 to 100 MHz bandwidth, 2 full function independent channels, exceptionally long 16 Mpts Arb memory length, and 160+ built-in waveforms, the RIGOL DG2000 with also 16 bit vertical resolution extends this new generation of Arbitrary Waveform Generators for this market. Customers with limited budgets will no longer need to work around their equipment's compromised functionality because the DG2000 delivers:
50, 70 and 100 MHz Sine, Square, RAMP, Pulse, Noise, DC & DualTone
2 Full Function Independent Channels
8th Order Harmonic Generator
AM, FM, PM, ASK, FSK, PSK, and PWM Modulation
16 Mpts Standard Memory
SiFi Sampling Technology for Improved Signal Fidelity
Built-in 7 Digit Counter
160 Standard Waveforms
19" Rackmount Kit
Rigol provide customers all the capabilities available in significantly more expensive generator solutions at lowest price. RIGOL continues to re-define price performance for basic instrumentation by delivering advanced capabilities and unprecedented value. With special output signals like RS232, PRBS and Dual Tone, the low cost series offers best price /performance in the market!
Further technical details and information are available from the below form