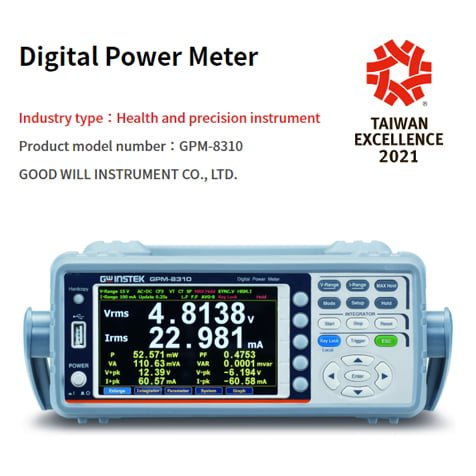 29 Oct

GW Instek won Taiwan Excellence Award 2021 for GPM-8310 and C-3200
GPM-8310 Digital Power Meter
www.taiwanexcellence.org/en/award/product/1100072
GPM-8310 is a digital power meter for single-phase (1P/2W) AC power measurement. Features include DC, 0.1Hz~100kHz test bandwidth, 16bits A/D, and 300 kHz sampling rate. It adopts 5" TFT LCD screen with a five-digit measurement display and provides 25 power measurement related parameters, and has a high-precision measurement capability.
C-3200 LoRaWAN Tester
www.taiwanexcellence.org/en/award/product/1100074
C-3200 is the only LoRaWAN tester in the world that provides the most complete protocol testing functions. It is a dedicated tester supporting major LoRa communication protocols including LoRaWAN, CLAA, and LinkWAN.